BROOK TROUT RECIPES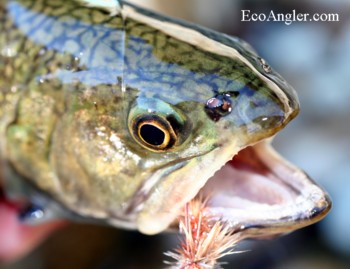 CATCH & RELEASE - COOK ONLY IF UNSAVEABLE
Brook trout recipes:

Brook trout is a delicious member of the trout kingdom. They can grow to a medium size that is nice for single servings. As with most trout, these little lovelies can be broiled, brazed, grilled, smoked, pan fried, deep fried or just about anything you can think of to do with them.

So hold on, 'cuz we are going to assail the senses with trout that sizzles!

Here's a recipe for brook trout that is only for the brave hot food lover in you.

BROOK TROUT DIABLO (this one will bite you AFTER it's been cooked!)

4 to 6 medium Brook trout fillets cut into small finger sized pieces

2 Tbsp Butter

1 cup Chardonnay cooking wine

1 large shallot, diced as fine as possible

3 cups cooked white rice

Salt

Pepper

A dash of Cayenne pepper

A dash of Tarragon
In a skillet, add the butter and shallots.
Cook until the shallots are almost done, but not browned.
Add a little of the Chardonnay, then add a few of the trout fingers. These will resemble scallops in size; about ½" diameter or so.
Add salt, pepper to taste.
Add a dash each of Cayenne pepper and Tarragon.
Cook until fish is done. -- about 4 or 5 minutes.
Take approximately a cup of the cooked rice and arrange in a circle on the outside of the plate.
When the fish is done, place in the center of the rice ring.
Garnish with a parsley sprig and serve.

Here is a beautiful presentation that will impress the guests at your table!
LEMON BUTTERED HERB BROOK TROUT
2 Whole brook trout, 8 to 10 ounces
1/8 c. Melted butter
1/2 tsp shredded lemon zest (peel)
1 1/2 Tbsp lemon juice
1/8 c. Onion, chopped fine
1/2 Tbsp snipped fresh rosemary or tarragon (optional)
1/4 tsp salt
1/8 tsp Ground black pepper
Fish should be thawed with the head, fins and tail cut off. Wash fish in cold water and dry.
Turn on oven to 425 degrees for pre-heating.
With the skin side down, open the fish like a butterfly.
Mix melted butter and lemon juice in a small bowl. Brush half of this mixture over the fish and reserve half for later.
Combine the onion, spices, lemon zest, salt and pepper. Stir until mixed well and dust the onion mixture over the open fish.
Close the trout and place on a baking dish large enough to accommodate the fish comfortably.
Brush the remaining butter mixture over the closed fish.
Put in the oven for about 15 to 20 minutes. Fish will become flaky. Test with a fork.
Decorate with parsley flakes and serve with lemon wedges, if you want.
This one can be adjusted to make more, so invite some friends over and show them what you can do!


---
If you have enjoyed our brook trout recipes, please share them with your friends and relatives. You'll be glad you did!!
Have any brook trout recipes to share....let us know....thanks.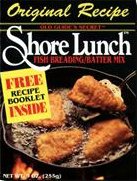 Have a Fantastic Fish Story to Tell?
Do you have a whopper of a story to tell about the one that got away? How about your most dramatic fish catch ever?

Share your excitement with the world by writing about it here!!
Read Other Fantastic Fish Stories
Click below to see contributions from other visitors to this page...

Where can I find it at Restaurant Not rated yet
Yes , SNOOK fish , a kind of fish I ever ate , it's really good , I don't know where in the USA they have in the restaurant or not , but in my state fl …
A little girls Big Catch Not rated yet
My daughter, Taylor was staying with my parents at their summer home in the Upper Peninsula of Michigan, when she caught a whopper of a fish. She was fishing …
---
click here for ONLINE FLY SHOP

Return from Brook Trout Recipes to Fish Recipes

Retrun to Fly Fishing Discounters Home Page