CUTBOW TROUT RECIPES
Try It, You'll Like It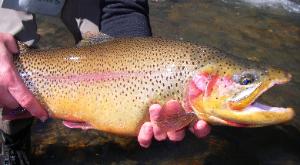 CATCH & RELEASE - COOK ONLY IF UNSAVEABLE
Cutbow Trout Recipes
Cutbow Trout are becoming more and more prevalent in America's waters. Wherever you find rainbows and cutthroats living in the same water, they are interbreeding and overtaking the gene pool. Kind of sad to think that one day the rainbow and/or cutthroat trout may be a thing of the past, though. But they are still trout and still taste darn good! ENJOY!!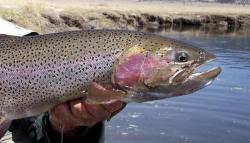 Ratatouille Cutbow Trout
1 onion, medium size and sliced

2 minced cloves of garlic

1/4 c. extra virgin olive oil

1 eggplant, cubed medium

3 zucchini of a medium size

1 green bell pepper

2 c. fresh sliced Portabello mushrooms

1 pound fresh tomatoes, diced & drained of most liquid

1 tsp iodized table salt

3/4 tsp fry basil

1/2 tsp dry oregano

1/4 tsp black pepper or ground black peppercorns, your choice

2 or 3 Cutbow Trout, cleaned & boned, about 1 pound apiece
Get the oven blazin' to 350 degrees.
In a skillet, cook your onion and garlic in olive oil until the onion becomes opaque.
Toss in the vegetables, basil, oregano, and black pepper.
Cook on a medium flame. Stir once in a while to let the fish know you are still there, maybe ten minutes total. Set to the side.
Take a large piece of aluminum foil and lay the trout on it in a single layer.
Spread the vegetable mix evenly over the top of the fish. Be sure to get some around the sides too.
Wrap the foil tightly around the Cutbow Trout.
Place in the oven OR on a hot BBQ grill for about 30 to 45 minutes, or until the fish is flaky and delicious looking.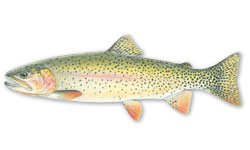 Cornbread Stuffed Cutbow
4 Cutbow Trout, whole, cleaned and boned, heads and tails on.

1 stick of butter

½ cup white cooking wine

1 can beer (your choice of brand)

1 box of Stove Top cornbread stuffing

Pinch of tarragon

Lemon juice, about ½ cup

Basil

Parsley flakes

Lemon pepper seasoning
First prepare the stuffing as per the box. You could make your own homemade dressing for this, but the Stove Top saves a LOT of time and energy. Don't you love technology these days?Set the stuffing aside for later use.
Line a baking pan with aluminum foil.
Spray this with a non-stick spray OR butter it up real good.
Lay the fish on the foil.
Open the cavity of each fish, and splash in some wine, a pat of butter, a touch of tarragon, a touch of basil, and parsley flakes.
Finally, sprinkle some lemon pepper seasoning inside the fish for added ZING!
Last, you will drizzle a little more wine and lemon juice over the top of the fish (NOT in the cavity, but on the outside of the skin) and cook in a heated 350 degree oven for about 15 minutes or so, and grab the beer.
RELAX! You have 15 minutes to wait.
Remove fish from oven and stuff with cornbread stuffing.
Add a little more butter at this point for moistness.
Back in the oven she goes for about 15 to 20 minutes, until the skin starts to shrivel just a tad. Time for one more brew before dinner (if you want).
Test the meat with a fork for doneness. When it flakes easily, you are ready to enjoy the best darn stuffed Cutbow Trout you ever tasted!
Thank you for trying our Cutbow Trout recipes. If you have other Cutbow Trout recipes you'd like to share with the world, please let us know.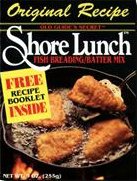 Have a Fantastic Fish Story to Tell?
Do you have a whopper of a story to tell about the one that got away? How about your most dramatic fish catch ever?

Share your excitement with the world by writing about it here!!
---
click here to go to the

ONLINE FLY SHOP

Return from Cutbow Trout Recipes to Fish Recipes

Return to Fly Fishing Discounters Home Page