FISHING GLOVES
A Glove For All Seasons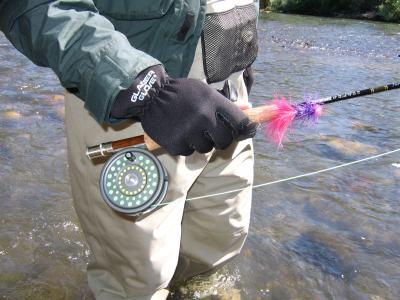 Fishing gloves are useful when the weather is cold, wet or windy. By keeping your hands protected, you can fish longer with ease. Fishing gloves come in four basic configurations:
1) Fingerless Gloves: this style covers your palm up to your first row of knuckles. The rest of your fingers are exposed.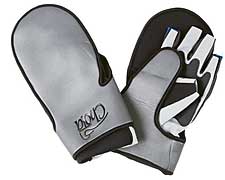 2) Flip Mitt Gloves: this style has the entire top of the glove fold back when needed to expose all the fingers.


3) Slit Finger Gloves: this style covers all your fingers, except your thumb and index finger coverings have a slit in them so you can peel them back when needed.


4) Cleaning Gloves: this style is supposed to protect your hands from sharp knives and fins while cleaning your catch. This is actually a different use than the three described above, so we'll talk about this type separately later in this article.
When you are fly fishing, you need something that can keep your hands warm at dawn, dusk, or anytime in between if the weather turns cold. Fishing gloves should be wind and water proof. They should be thin enough to allow finger dexterity, while thick enough to provide warmth. The covering should be lightweight yet keep you dry. The stitching should be durable. You should be able to get a good pair of gloves between $12 and $50.
On the low end, you can get 100% wool fingerless gloves or flip mitt gloves. Some of these gloves will include an insulation layer of Thinsulate for extra warmth. Some also will have leather on the palm to improve your grip. You may also find some of these low end gloves with a Gore-Tex insert to render it water and wind proof. These gloves are warm and durable, unless you have wool allergies, then you may want to choose something else. For gloves without the Gore-Tex insert, they will be water resistant rather than water proof.
For a little more, you can get gloves made of polar fleece to protect your hands from cold and wind. A thin layer of neoprene covers the palms to provide a solid grip on these fingerless gloves. A Velcro strap fastens around the wrist to keep the glove on securely, and keep out the cold. You can also find similar flip mitts in this range made from the same materials. When closed, the mitten keeps your hands toasty, which may be especially important if you have arthritis, or other pain in your hands. When you need the extra dexterity, just flip the top back and you can use your fingertips. The top secures back by your wrist with a piece of Velcro. If you prefer the slit finger variety, you can find a pair in this range made of fleece with synthetic leather palms. This combination provides warmth, protection from the wind, and a good grip. The forefinger and thumb have slits that can be folded back when a little extra dexterity is needed.
The more expensive fishing gloves are usually made from breathable fleece fabric that protects you from the wind and cold. Neoprene palms add an extra layer of warmth and protection. You can find these materials in fingerless, flip mitts and in slit finger styles. For a few extra dollars you are guaranteed to have durable blind stitching, and the extra precaution of gluing the fleece to the neoprene as well.
For cleaning gloves, you can choose a pair anywhere from $4 to $40. You can find the bargain gloves that offer a non-slip adhesive pattern on the palms so you can hang on to slippery fish. Some use utility gloves, which offer good dexterity and tactile ability. It helps that utility gloves are machine washable. If you spend a little more, you'll get gloves that are more puncture and cut resistant. This type can be used when unhooking your fish, filleting, and removing fish from livewells. Most of these cleaning gloves will work well in both freshwater and saltwater. They should rinse easily to stay clean. Top of the line gloves may be made with Kevlar for heavy duty protection, and are tight fitting to help your dexterity.
---

Return from Fishing Gloves to Fishing Accessories

Return to Fly Fishing Discounters Home Page