SOCKEYE SALMON RECIPES
Fun to Catch, Great to Eat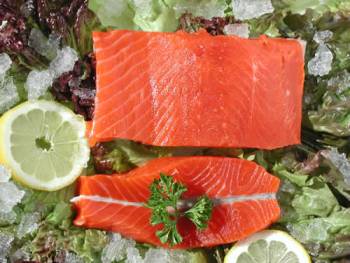 Sockeye Salmon Recipes
Easy Salmon Cracker Dip (this is quick and simple)
A quarter pound (4 ounces) of smoked Sockeye Salmon

A half pound (8 ounces) of Red Salmon

1 package of Philly cream cheese, 4 ounces

A quarter cup of softened butter
Process all ingredients in your dusty old Cuisinart food processor.
Run the processor until the mix is smooth and creamy looking.
Store it in the fridge for up to 3 days.
Serve as desired with crackers, cocktail bread, chips, or whatever strikes your fancy.Great appetizer!
---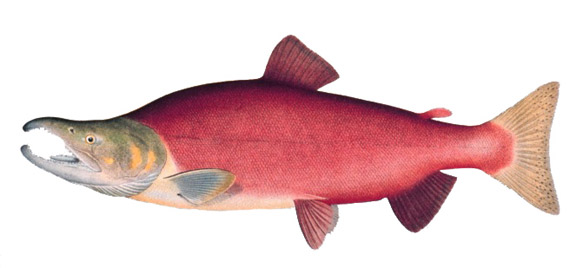 Poached Salmon with Mustard Compote

Fish:

1 entire Sockeye Salmon (5 to 6 pounds, fresh caught), cleaned, tail on, head gone.

1 BIG onion, sliced

2 whole bay leaves

5 black peppercorns, whole

2 allspice, whole

3/4 c. Morton's iodized salt

Sauce:

1 c. Hellman's real mayo

1/2 c. sour cream (good quality, folks. Don't get cheap on me!)

2 tbsp Grey Poupon mustard

1 tbsp mustard seed, course grain

1/3 c. Dill, fresh and finely chopped

1 tbsp fresh tarragon, chopped fine

1/2 tsp lemon zest, grated to a fine powder
Grab the fish by the head and let it know who the boss is.
Going from head to tail, slice the fish across the body so you have 3" steaks; should be about 4. When you hit the backbone, tap the top of the knife blade with something heavy to break through. Discard the tail unless you have a use for it.
In a 10 quart pot, bring eight (8) quarts of the finest tap water available to a rolling boil.
Add the sliced onion, the bay leaves, the whole peppercorns, and the whole allspice to the pot.
Last but not least, add the salt.
Throw in the Sockeye steaks and cover the pot and turn off the flame.
Let sit (do NOT stir or mix in any way at all) until your Sockeye begins to separate from the bone. This should take about 15 to 20 minutes at least, so be patient because good things come to those who wait, remember?
Transfer fish to a shallow holding pan.
Cool the Sockeye until you can handle it comfortably; maybe 8 minutes or so. If the fish is too warm, it will crumble; too cool and the bones will be hard to remove.
Remove the meat in pieces as large as you can.
Throw out the skin and bones and arrange the fish on a platter for serving. DELICIOUS!
Thank you for trying our Sockeye Salmon Recipes. If you have any salmon recipes that you'd like to share with the world, please let us know.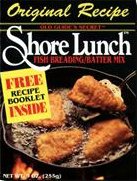 Have a Fantastic Fish Story to Tell?
Do you have a whopper of a story to tell about the one that got away? How about your most dramatic fish catch ever?

Share your excitement with the world by writing about it here!!
---
For further information, please CONTACT US or visit our ONLINE FLY SHOP.

Return from Sockeye Salmon Recipes to Fish Recipes

Return to Fly Fishing Discounters Home Page