SPOTTED SEA TROUT RECIPES
Recipies for the Ages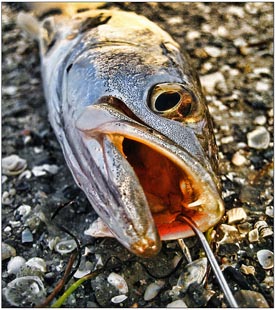 Spotted Sea Trout Recipes
Easy Fried Spotted Sea Trout
4 spotted sea trout fillets, 10 oz. each

3/4 c. crushed saltines (about 21 crackers)

1/4 c. Parmesan cheese

1 Tbsp fresh snipped parsley

1/3 c. flour, all purpose

1/8 tsp black pepper

3 Tbsp Realemon lemon juice

1 egg, well beaten

3 to 4 Tbsp Crisco shortening or cooking oil

Fresh lemon (completely optional)
Fish needs to be freshly caught or thawed
Mix together the crackers, Parmesan cheese, and parsley in a bowl
Combine flour and pepper in another bowl
Pour the lemon juice into a bowl
Add beaten egg to another bowl. You now have four bowls according to Count Count on Sesame Street.
Place fillets first in lemon juice, then the flour mix, then in the egg, and lastly cover the fillet with the crushed cracker mix breading.
Get the shortening (or oil) hot in a skillet
Place a dipped, breaded fillet in the hot oil
Use a medium heat and cook until brown, about 7 to 10 minutes
Turn over the fillet and repeat on other side until fish is flakey; test doneness with a fork.
Remove to paper towels for draining and serve with the lemon slices, if desired.
Use the parsley for a garnish
Can also add rosemary and/or dill if the spirit so takes you..
Serves 4 normal eaters or 2 really hungry ones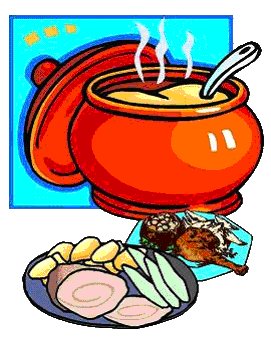 Grilled Spotted Sea Trout
1 spotted sea trout, 14" to 16", cleaned and boned w/skin & head on
REAL butter, not margarine
3 medium onions sliced
Garlic salt (just a pinch)
Salt (just a pinch)
Black pepper (just a pinch)
¼ cup of red wine
1whole lemon
Heavy duty aluminum foil
Rub one side of the fish with butter and put on a sheet of foil.
Inside the body cavity, place 2 of the sliced fresh onions. The remainder goes on the outside of the fish.
Season with garlic salt, salt, and pepper to taste
Add in the wine and squeeze lemon over the fish
Leave the used peel in the package with the fish
Close the foil around the fish so it doesn't leak
If cooking on a grill, use a non-stick spray coating on the outside of the foil
Cook over the hot coals for 25 to 30 minutes, then flip and cook for an additional 15 to 20 minutes.
Peel back the foil, grab your fork, and dig in!
MMM MMM GOOD!
Thank you for trying out our Spotted Sea Trout recipes. If you have other Spotted Sea Trout recipes that you would like to share with the world, please contact us with the recipe.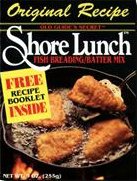 Have a Fantastic Fish Story to Tell?
Do you have a whopper of a story to tell about the one that got away? How about your most dramatic fish catch ever?

Share your excitement with the world by writing about it here!!
Read Other Fantastic Fish Stories
Click below to see contributions from other visitors to this page...

---
---
For further information, please CONTACT US or visit our ONLINE FLY SHOP.

Return from Spotted Sea Trout Recipes to Fish Recipes

Return to Fly Fishing Discounters Home Page