WADING BELTS
Don't fall in a river without one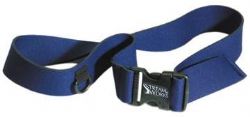 Wading belts are important for fly fishers. Why would you need a belt to go wading? Well, the most important function of this belt is to keep your waders from filling with water if you slip and end up in the river. If you fell into the water without one, it could be very challenging to get back up with full waders. You didn't know a mere belt could be such an important safety feature, did you? They also provide back support and give you with another place to keep larger tools, like knives and pliers.
These wading belts run the range from very simple to elaborate. Prices run from a mere $10 to almost $100, depending on what you type you choose. For the budget-minded, you can get a simple belt of nylon webbing with a quick-action, side-release buckle. Another simple one gives you a more traditional buckle. This belt can fit a waist from 30 inches to 50 inches around. A similar model keeps the simplicity but adds four D-rings and two clips to hang your tools in a convenient spot. For a little more money, you can get a high-density neoprene belt that is easily adjustable with Velcro. It also has a quick release buckle and fits from 28 inches up to 46 inches. For those who like a little color, you can find some attractive woven webbed wading belts in a variety of patterns and colors. They are dye-fast and will add a little pizzazz to your fishing outfit.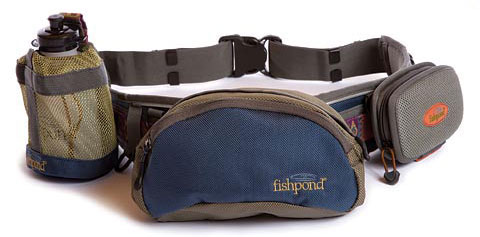 If you have back problems, or your back just tires after standing all day on the river, you may prefer to get a belt that offers solid back support. Back pain can be caused by many things while you're fishing. Maybe you need to bend forward for a few moments changing a fly or releasing a fish. Maybe the current is pushing a bit hard against your legs and you're balancing with your back. Maybe you have a lot of equipment slung over your back. No matter what your back pain stems from, a good back support will help make your day fishing more enjoyable.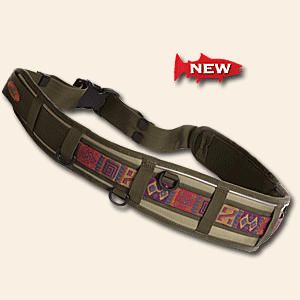 For around $40, you can get one with an attractive design and a wide back to provide lumbar support. Webbing accents make good points to attach accessories and tools. For the same price, you can get a solid black belt with high density foam to provide good back support and comfort. For a bit more, you can choose one that is orthopedically designed to the specifications of a physician. A breathable mesh belt provides support and ventilation. The belt closes with a two part Velcro closure, giving you a custom fit. The back support is ergonomically designed and comfortable.
At the top of the line, you can find a belt that is made of closed cell foam covered in neoprene and nylon webbing. This foam provides a unique system for back support. Convenient rod holders are built in, as are places to attach various accessories. This belt comes in two sizes to accommodate waist measurements. Another top of the line choice has a padded belt with air mesh backing to provide comfort and ventilation. Accessories can be attached with Velcro loops. Jacquard webbing holds pliers sheaths, knives, and other tools. The belt comes with three key accessory components, including a mesh water bottle holder and bottle, a large accessory pouch, and a small molded fly box. The belt can be worn with or without these extra accessories.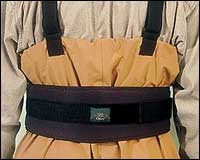 Some wading belts also are dual purpose. There are a few that have retractable stripping baskets built into them. Mesh baskets roll up and stow away in a convenient pouch on the belt. When you need it, just open it up! The mesh baskets also make it easy to see where you're walking in the water, unlike solid stripping baskets.

---
For further information, please visit our ONLINE FLY SHOP

Return from Wading Belts to Fishing Accessories

Return to Fly Fishing Discounters Home Page