ARCTIC GRAYLING RECIPES
Arctic Grayling Recipes
Arctic Grayling is one of the tastiest fishes around. The meat is firm and very white when prepared correctly. The preparation can be simple or complex, depending on where you are, who you are, and what you have access to. Let's face it, boys and girls; you won't have access to a spice rack at the campfire. Here is one quick one and one for the more sophisticated palate.
Quick beer wrapped Arctic Grayling
1 Grayling (as large as you can manage to catch!)

Seasoned salt

Beer (just a dash or spritz)

Tin foil
Clean the grayling as soon as it hits the boat. The meat will breakup very quickly, so get it to the fire as soon as possible.
Leave the fish whole (minus the fins. Those don't taste good.)
Place on a sheet of foil and salt the inside of the fish with seasoned salt.
Add a touch of beer (YEA! Beer!) and wrap the foil around the fish, enclosing it so it can't get away.
Put in the hot coals and let cook for about 15 minutes, maybe 20. It's a good idea to turn it once during this time so the fish cooks through evenly.
Very simple, tastes great and only takes about a half hour to get it to the plate and in your belly. Perfect fireside preparation!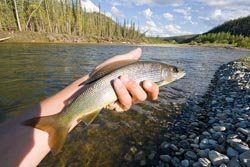 Sautéed Grayling with Pasta Carbonara
2 pounds Grayling, freshly caught

3 slices of bacon, cooked and crumbled

1 medium onion, diced

4 to 6 eggs

Butter (real butter)

½ cup White cooking wine

¼ cup cream or milk

1 cup grated Parmesan or Romano cheese, your choice
Prepare your favorite pasta as you always do. Make sure the pasta is NOT al dente, but completely cooked! Set aside in a bowl. You'll see why later.
Cut the Grayling into strips or chunks and sauté in a skillet with butter until the fish is done.
Set aside.
Now add the bacon, onion and wine to the hot sauté pan and cook until the onions are done through, about 4 minutes. Watch those little criers! DO NOT BURN THEM!
In a bowl, whip the tar out of the eggs and thin the mixture a bit with some cream or milk.
Strain the egg mixture.
When the onion concoction is ready, dump it into the strained egg mixture and mix well.
Salt and pepper to taste.
Add this to the pasta and toss until covered.
Arrange on plate and top with the cooked Grayling.
This sauce is served cold over hot pasta. A little different, but very good and can be livened up a bit with the addition of Cayenne pepper or Tabasco sauce.
Bon appétit, my fine angling companions and a-fish-ianados!
---
Thank you for trying out our Arctic Grayling Recipes. If you have other Arctic Grayling recipes that you would like to share with the world, please contact us with the recipe.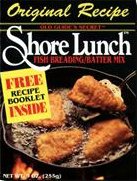 Have a Fantastic Fish Story to Tell?
Do you have a whopper of a story to tell about the one that got away? How about your most dramatic fish catch ever?

Share your excitement with the world by writing about it here!!
Read Other Fantastic Fish Stories
Click below to see contributions from other visitors to this page...

Artic Grayling Recipe

one whole grayling cleaned and dressed (fins removed leave the head and skin) 2tbsp chopped green pepper 2tbsp chopped red pepper 2tbsp chopped onion …
---
---
click here for ONLINE FLY SHOP

Return from Arctic Grayling Recipes to Fish Recipes

Return to Fly Fishing Discounters Home Page