CHUM SALMON RECIPES
Here's two that are really great!!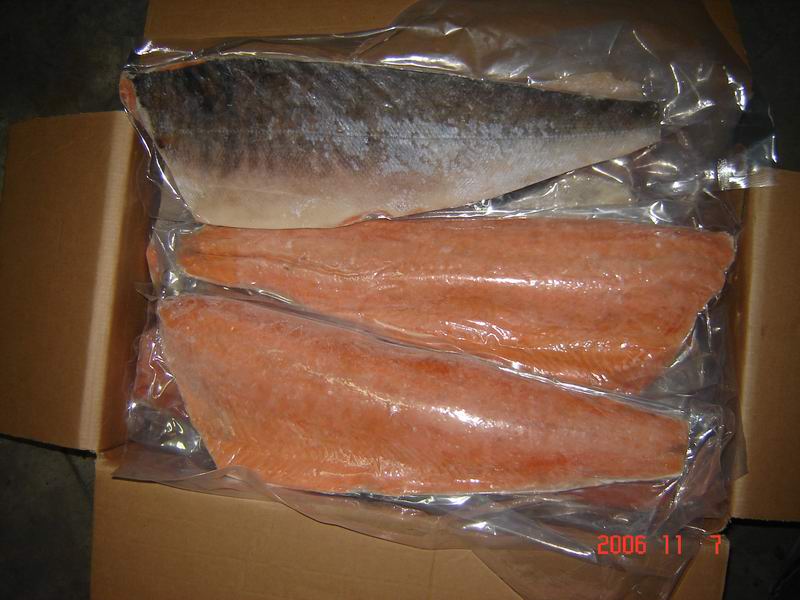 Chum Salmon Recipes
Easy Fried Chum Salmon
1 entire Chum salmon, cleaned, boned, skinned (important!), and filleted

White unbleached flour

Crushed corn flakes, any brand will do so pick a favorite.

Stick margarine NOT butter. (It browns too quickly for this one)
For this recipe, it is vital that ALL the skin be removed. The bones of the ribs must also be cut away from the meat. Slice the Chum into steaks about 3 inches wide or so.The coating is simple: half corn flake crumbs and half flour. Start with 1 cup each in a large plastic baggie. You can always add more if you need to. Add seasoning if you want (salt, pepper, etc…) but it is not required, as the fish has a natural flavor that stands on its own.
Pre-heat a pan over medium flame, and melt some margarine in it.
Rinse the steaks with water as cold as you can get it; shake away any excess moisture, and add a couple to the bag. Shake (as in Shake and Bake) making certain the salmon is entirely coated.
Put the coated fillets in the hot margarine.
When half of the meat turns color, turn it, cooking until done. This usually means about 5 minutes per side. The salmon will absorb the margarine, so add more as you go, keeping the pan damp and not allowing it (the margarine) to burn off. Outside of the fish will be crispy and brown, and the meat will be a pinkish hue.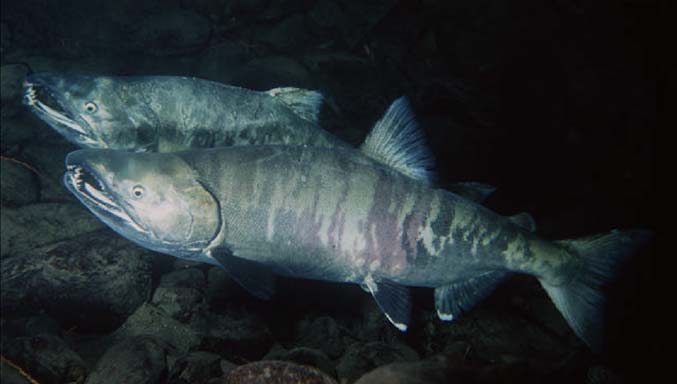 Slammin' Ginger Salmon
2 pounds Chum salmon fillets, cleaned, boned, and skinned.

4 ounces Kikkoman Soy Sauce

¼ c. chopped onion

1 tsp fresh ginger, minced

Pepper to taste
Combine all except the fish.
Take a large baking pan and spray with non-stick cooking spray.
Place the salmon in the pan and ladle the liquid mixture over the salmon fillets.
Cook in a 400 degree oven for 20 to 30 minutes, then remove and allow to cool for 5 minutes.
Couldn't be easier and taste better than this. White rice is a MUST for this one, so steam a BIG pile of it for serving. For a drink, try Oriental tea or, if you are adventurous, a bottle of Sake.
If you have enjoyed our Chum Salmon recipes and have other recipes that you would like to share with the world, please let us know>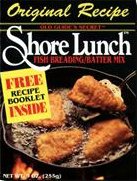 Have a Fantastic Fish Story to Tell?
Do you have a whopper of a story to tell about the one that got away? How about your most dramatic fish catch ever?

Share your excitement with the world by writing about it here!!
---
click here for ONLINE FLY SHOP

Return from Chum Salmon Recipes to Fish Recipes

Return to Fly Fishing Discounters Home Page