SNOOK RECIPES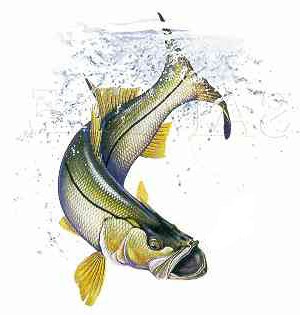 Here are our best Snook recipes:
But before we start, I must add this personal note: Snook is at the top of my list for best fish I've ever eaten. I first tried it over 30 years ago and I still remember its flavor. When cooked fresh, it is a taste treat you will not ever forget.


Barbecue Snook
1 snook, whole & cleaned

3 bay leafs

1 sliced clove of garlic

4 slices of lemon

The juice of a single lemon

About ½ cup olive oil, extra virgin is best Salt and pepper to taste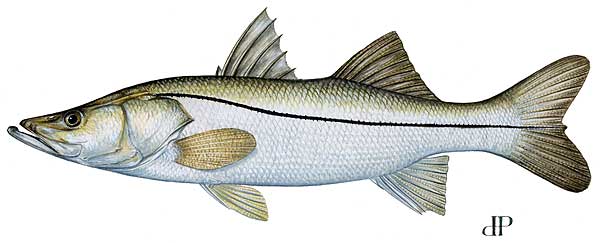 In each side of the fish, cut four slits.
In each slit, put a bay leaf, a ½ lemon slice and some of the sliced garlic.
Salt the fish liberally and drizzle with lemon juice and some olive oil.
Allow to sit for one hour (at least) before putting on the BBQ.
Use a charcoal or wood fired kettle. Gas grills just will NOT do it for this one.
During the cooking time, brush on a mixture made of the remaining garlic, oil and lemon juice.
If you want to impress someone, add a sprig of fresh rosemary, oregano or basil.
As the fish is cooking, drizzle some of the olive oil over it to keep the skin moist.
Saute the remainder of the sliced garlic clove with white wine and parsley for about 3 to 4 minutes.
Remove from heat and add the juice of a single lemon.
Serve this sauce COLD with the hot fish. Far an extra treat, serve with a salad.
Snook a'la Parmesano
Before the fish is cooked, mix together the following ingredients and set aside for later:
1 c. real mayonnaise

¾ c. of Parmesan cheese, grated fine

5 chopped green onions or scallions

A spritz of Tabasco

Glass of white wine
Place the snook filets into an oven safe dish. A casserole dish works nicely here.
Liberally apply lemon juice over the top of the filets.
Bake in a 350 degree oven until the thickest portions of the snook are firm when to the poke of a fork. About 10 to 12 minutes.
While the fish is baking, have a seat and drink the wine. You deserve a break, right?
Take the snook out of the oven and spread the topping made earlier EVENLY over the snook fillets.
Broil until topping is brown and bubbling.
Enjoy your fish immediately with white rice.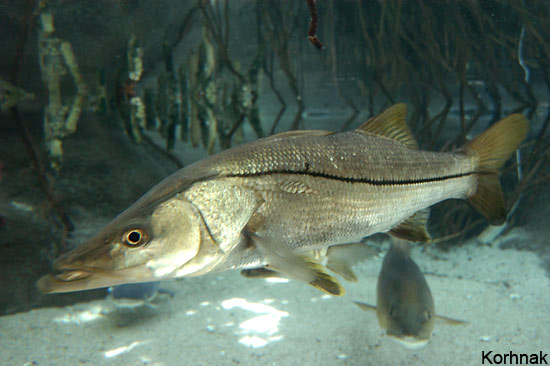 Snook salad
1 snook filet, the larger the better

3 or 4 stalks of fresh celery

1 onion, chopped but not diced

2 eggs, hard boiled

Sweet pickle relish

½ cup sour cream

mayonnaise, per your judgment
Sauté the snook with some of the celery, chopped onion, salt and pepper until cooked through.
Drain off all fluid and cool.
Crumble the fish in a big bowl.
Now add the hard boiled eggs, relish and remainder of the celery.
Mix in sour cream and add just enough mayo to hold everything together.
USE YOUR JUDGMENT HERE. Salt and pepper to taste if desired.
Chill for 24 hours before serving. Delicious!!
Thank you for trying out our Snook recipes. If you have other Snook recipes that you would like to share with the world, please contact us with the recipe.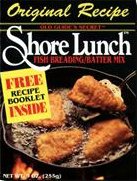 Have a Fantastic Fish Story to Tell?
Do you have a whopper of a story to tell about the one that got away? How about your most dramatic fish catch ever?

Share your excitement with the world by writing about it here!!
Read Other Fantastic Fish Stories
Click below to see contributions from other visitors to this page...

snookies !! Not rated yet
A good sized snook yer talkin 24 inches of lean white filet each side. I like to slice the filets every 4 inches, place them in a pan and add 2-3 inches …
The Best Tasting Snook Money Can Buy Not rated yet
Lee Lobban and I headed out before sunrise on the Indian River this morning at 6am. It was the perfect day to cruise over to one of our favorite fishing …
---
For further information, please CONTACT US or visit our ONLINE FLY SHOP,

Return from Snook Recipes to Fish Recipes

Return to Fly Fishing Discounters Home Page