FISHING GADGETS
Catch the Fever
"Do I really need this or do I just want it?"
Fishing gadgets and gizmos
Who doesn't like a new toy? Boys and girls of all ages like to have the latest, greatest, trendiest product they can find. Car enthusiasts love everything automotive; computer whizzes and geeks love the techie side of cyberspace items; and yes, fly fishers love their gadgets and gizmos, too.
Someone is always coming up with a new gizmo to help make a job easier while you're out on the water. And who doesn't like to go out decorated with all the gadgets you can get?
We have compiled the latest fly fishing "stuff" meant to capture the attention and curiosity of 18 million or so, fly fishers, their spouses and/or better halves, and fly fishing boys and girls of all ages.
Have fun and may your fly fishing dreams come true!! New "toys" will be added periodically.
---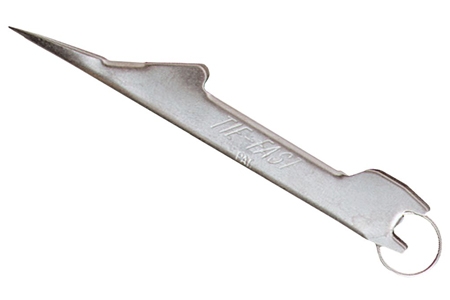 TIE-FAST KNOT TYER - from Sierra Stream & Mountain
This tool makes tying knots quick and easy. The Tie-Fast Knot Tyer was first developed in the 1960 and later changed its name from the Tie-Fast Company to Stream and Mountain in order to differentiate itself from its most popular product. The number one knot tying tool in the world, the Tie-Fast Knot Tyer is praised by fishing experts for its simplicity and for the strength of its knots. Made of one piece stainless steel, this tool enables anglers to tie secure knots in a matter of seconds. Tie super-strong knots in seconds with this one-piece, stainless steel nail knot tool. Fishing experts praise this tool for its simplicity, performance and the durability of the knots it ties. Comes with complete instructions for use The ultimate "nail" knot tool - ties a number of different varieties of this durable knot Nail Knot: cannot become untied because the tag end of the line is secured by all turns of the knot, unlike other knots that have only one turn holding their ends. Material: Stainless Steel Colors: Silver and Black
See video instructions at:
https://www.youtube.com/watch?v=WgdQb958d28
***For anyone who wants to tie swivels with two eyelet, here are some comments from one of our customers.
I received the knot tyer and it works very well. I will tie all my fishing knots with it. A good addition to this would be a small hook at the ring end to hold the swivel while it is tied, or some sort of pressed anchor to hold the swivel. I have added a little hook to the ring to do this and it works well. This is just a suggestion to improve the usability of this tool. Regards Warren Australia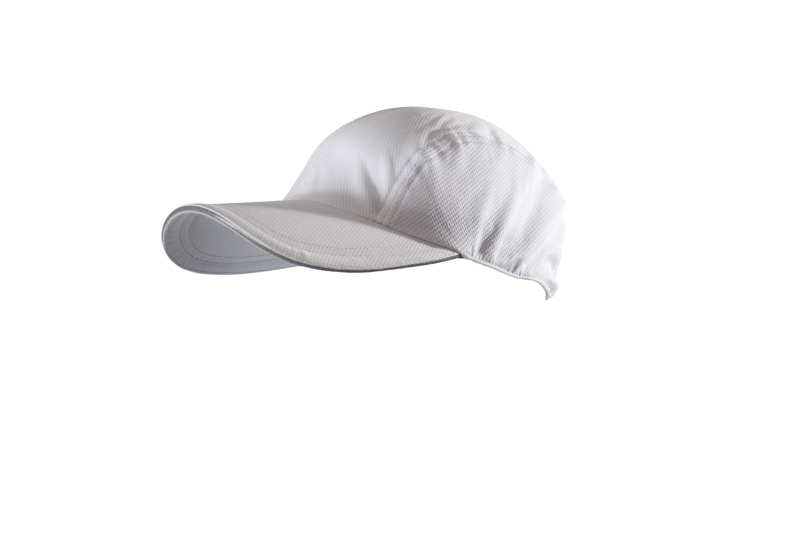 MAGIC COOL - COOL CAPS - by Grabber
For use when fishing, working out, running, playing ball, or any active sweaty event, the Magic Cool -Cool Caps will keep your head cool and prevent loss of vital body heat.
Comes in baseball, runner, bucket, or skull cap styles.
Size: One size fits most
Exercise Workouts - Sports Activities - Construction - Outdoor Recreation
- Moisture activated cooling cap made using CCT™
- Hook and loop closure
- Waterproof bill
Magic Cool™ is a high-performance cooling cloth that can be used in any application where rapid personal cooling is desired. The unique, hollow-fiber weave has high water absorption, retention, and wicking characteristics to maintain the cool temperature of the cloth.
To activate Magic Cool, simply wet with water, wring out the excess water, and wave the cloth in the air. Magic Cool will cool down rapidly and remain cool as long as the fabric is moist.
• UPF 50+ UV Protection
• It requires no refrigeration
• It is renewable with any water source
• Contains a non-toxic, anti-microbial treatment to reduce odors
• Utilizes Cool Comfort Technology™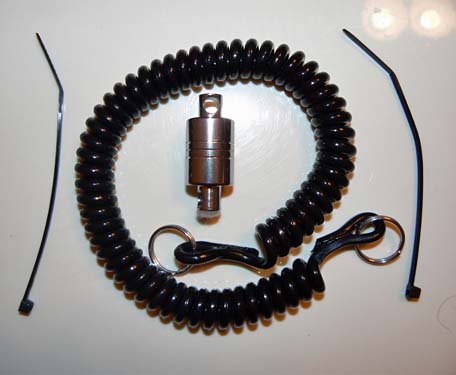 Brodin MAGNETIC NET RELEASE with Coiled Lanyard
Here's the newest innovation of the magnetic net release from Brodin, the people who make the Ghost Landing Nets.
This is a GOTTAHAVEIT item.
Use the magnetic net release alone or with the coiled tether Tether is 12" at rest and can stretch to 5 feet Tether retracts out of the way when not in use Both ends of tether have aluminum split rings for secure attachment Magnet is silver colored and extremely strong - 9 lb. pull/release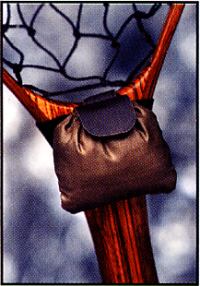 The Quick-Seine
Regular Size fits oval and teardrop shaped net frames up to 9" wide x 13" long Conveniently captures trout stream insects for more effective fly-pattern selections
What is the Quick-Seine? The Quick-Seine will provide you with an instant sampling of trout stream insects without the inconvenience of pocket-searching, juggling, or tying-on. A compactible all-white seine net is stored and transported in a pouch on the unused portion of your landing net handle and is always ready to use. The elasticized seine net can stretch over your landing net in seconds to capture and examine insect specimens on or below the surface of the water. The seine net dries completely inside its breathable pouch after use. Transported out of the way on the net handle, it frees up valuable vest-pocket space.
Why Use a Seine-Net?
In order to fool the fish with your artificial fly, it will be important to know the size, shape, and color of the insects the fish are feeding on. Selectively feeding trout will reject flies that are just a little larger or smaller than the actual hatching insects. As a result, accurately noting the characteristics of the naturals could be very rewarding to the angler. As fish become more cautious and "educated" due to increased fishing pressure, observing and matching the naturals may become even more important to angling success.
Since fish feed on subsurface insects 90% of the time, knowing what insects are active and available to the trout below the surface could be very advantageous to the angler. Keeping updated to the presence and characteristics of the naturals above and below the surface will enable the flyfisher to select more effective flies at any given time.
However, because it can be awkward and time-consuming, many anglers pass up on seining and end up frustrated when their flies are continuously refused by the fish. The Quick-Seine™ will convert your landing net into a seine net instantly, and enable you to examine stream insects quickly and efficiently.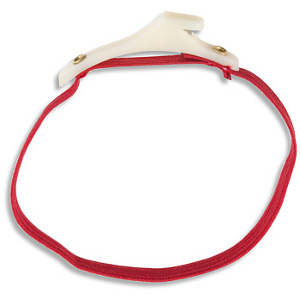 SHARK TOOTH Tippet Control System - from Loon Outdoors
Spend more time fishing and less time getting ready with the all-new Shark Tooth, a highly functional and easy tippet cutter. Simply slip elastic over your tippet spool and use the Tooth to cut tippet with precision. No more wasted time searching for nippers or using your teeth. The smooth cutting action leaves the perfect amount of tippet exposed and eliminates tippet waste. Reusable from spool to spool. F0944 Small - Fits most spools from Umpqua, Cabelas and Climax F0945 Large - Fits most spools from RIO, Maxima, Scientific Angler, Orvis, Cabelas, Frog Hair and Umpqua
SEE THE VIDEO DEMONSTRATION AT YOUTUBE.COM
https://www.youtube.com/watch?v=k690YriObkg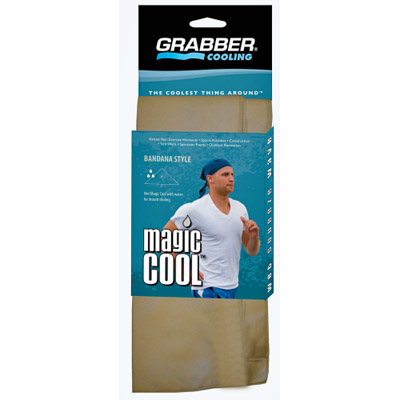 Exercise Workouts - Sports Activities - Construction - Outdoor Recreation
Magic Cool is a high-performance cooling cloth that can be used in any application where rapid personal cooling is desired. The unique, hollow-fiber weave has high water absorption, retention, and wicking characteristics to maintain the cool temperature of the cloth.
To activate Magic Cool, simply wet with water, squeeze out the excess water, and wave the cloth in the air. Magic Cool will cool down rapidly and remain cool as long as the fabric is moist.
Contains a non-toxic, anti-microbial treatment to reduce odors
UPF 50+ UV Protection
Requires no refrigeration
It is renewable with any water source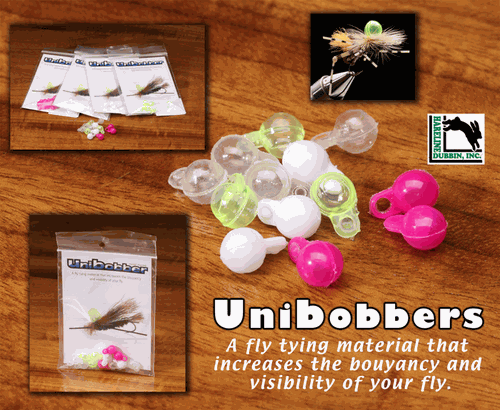 Fly Tying Unibobbers are sure to keep your fly floating. We have used them as parachute posts with great success. Imagine the "hangdown" patterns, "cripples", emergers one could create. The entire fly hanging subsurface but your able to fish the Unibobber as a dry, dead drift. The possibilities of this product are endless.
A very unique idea and product to help float your flies and also to see them from afar.
Tyers, guides, and big fish love them
Work great as a micro Thingamabobber for delicate fishing on spring creeks
1/4" in diameter and tie in securely to become one with your fly.
6 per pack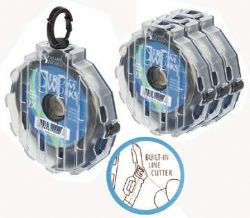 MODULAR TIPPET DISPENSER
The innovative Modular Tippet Dispenser is easy-to-use, versatile and expandable. No more fumbling around for the correct size tippet. The precision molded dispenser manages one or more tippet spools, in individual, clearly labeled, interlocking modules with built-in line cutters.
• Tippet modules interlock to form an expandable system. Includes 3 dispensers
• Index reference window makes tippet size identification quick and easy
• Built-in line cutter on each module
• Tension arms prevent spool backlash
• Rubberized line guide keeps tippet end accessible for easy access
• Swivel Clips (2) are included providing easy attachment to any "D" ring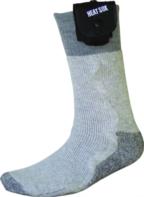 Heat Sox
Heat Sox are specially knitted quality wool, nylon, spandex and Dupont Thermolite designed for quality comfort. A battery pack generates safe heat to the embedded coil. Dual temperature settings give you control over how much warmth to generate. Enjoy up to 12 hours of soothing warmth on one battery!
Sizing: Medium = Men (5-9) / Women (4-6) Large = Men (9-12) / Women (6-10) Extra Large = Men (12-15) / Women (10-12)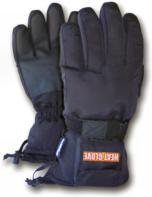 Heat Gloves
Heat Gloves are fully lined with 3M Thinsulate on the inside, and have non-slip palm and finger surfaces for added grip on the outside. Barrel cord adjustment on cuff helps keep out wind and snow. Velcro wrap band insures proper fit. Provides up to 8 hours of soothing warmth on one battery!
(Requires 4 "AA" batteries per glove, not included. Available in Small, Medium, Large and Extra Large sizes.)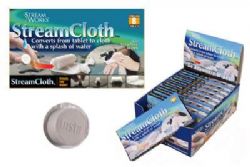 STREAMCLOTH™-HAND TOWEL
MSRP: $2.98
The Streamcloth™ hand towel is a small sealed tablet that when contacted with moisture grows into a full size hand towel. It is extremely durable and reusable. The towels have no odor and are safe for all applications.
• Eight (8) sealed tablets come in each package
• Great for the boat, car, backpack, purse, first aid kit and many other applications.
Now available in our ONLINE FLY SHOP.





Hand Warmers plus other related products from Grabber Warmers. An ingenious scientific achievement.
Testimonial
SHARE THE WARMTH...
"Just wanted to let you know how wonderful your Hand Warmers are. I've been deer hunting all my life, and I first used those fuel sticks that have an awful smell and are not very reliable. Only a few name brand products are worthy of being an American icon and your Hand Warmers are the best of the best. Thank you!"
-Greg P., MI
For detailed information on these products click here.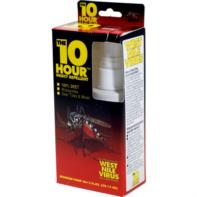 100% DEET
Protect yourself from insects that may carry West Nile Virus, Encephalitis, and Lyme Disease with The 10 Hour Insect Repellent containing 100% DEET (N, N-Diethyl-m-toluamide). With just one application, Tec Labs' strongest repellent will protect you from biting insects, including mosquitoes, chiggers and ticks, for up to 10 full hours. The 2 oz. atomizer spray typically lasts as long as 3 aerosol cans. There is no scent added and it is formulated not to sweat off. In 1954, after 15 years of research and testing of over 11,000 compounds, DEET was developed by the United States Department of Agriculture for the U.S. Army. This formulation has been found to be the most effective insect repellent available. Tec Labs' products are standard issue in the first aid kits of utilities, railroads, park crews and foresters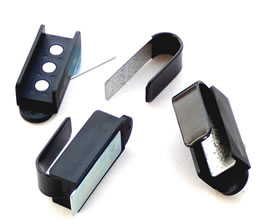 The Magnetic "Third" Hand - from Tight Line Enterprises
THIS CLEVER DEVICE HOLDS YOUR ROD WHILE YOU RELEASE A FISH OR CHANGE A FLY - One-hand operation allows you to slip your rod into the groove quickly while your other hand holds a net, fish, fly, etc.; now both hands are free - A zink coated metal plate held by 3 strong nickel plated magnets attaches this device securely to your shirt, vest, pack or suspenders - The "U" shaped rod holding plate, held to the front by the same 3 magnets, is also zink coated to prevent corrosion and is padded to protect your fishing rod - The basic unit is molded from durable UV rated vinyl that prevents sun damage - The device has no pins, clips or clamps to damage your clothes
MAGNETIC FLY GUARD - Fly Drying Device - from Tight Line
Innovative Fly Drying Device
Features -Unique & versatile attachment plate secures Fly Guard to your vest, shirt, pocket, sleeve, pack or even your cap. - 3 strong nickel plated magnets secure flies as they dry. - Molded from durable UV rated vinyl that prevents sun damage. - Attachment plate is zinc coated to protect against corrosion. - Side rails protect flies from being brushed off. - Open ends allow easy removal when ready. - No pins, clips or clamps to damage your clothes. - Split ring hole allows key ring or hanging clip feature if desired.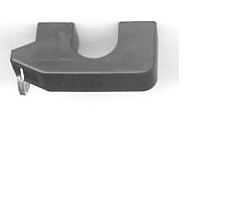 Magnetic Rod Guard - from Tight Line Emterprises
The Rod Guard is designed to hold your fishing rods vertically against the side of your vehicle in a safe and secure position from the time you park until you head for the stream, lake or surf.
This device keeps your rods from being blown to the ground or subjected to opening or closing doors or trunk lids. It comes with a convenient key ring and is small enough to carry in your pocket or hook to your vest, waders or belt loop to keep it handy any time you need it.
It is made of a non-marring durable UV rated black vinyl material with two small but powerful magnets that are slightly recessed to protect the finish of your automobile.
This product is a must for anyone wanting to keep his or her fishing rods out-of-harms-way while gearing and rigging-up around the vehicle.
Have several ready next time you take someone fishing.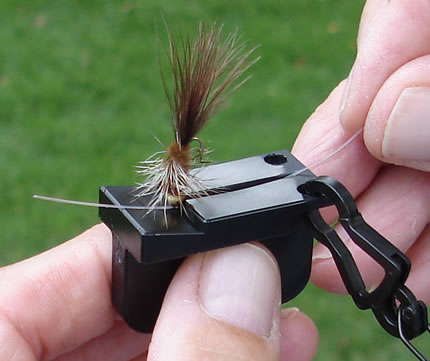 20/20 Magnetic Tippet Threader
No more squinting. Adapted for those who can hardly see the eye of a hook, let alone thread it. Tie one on even in the dark. It's that easy.
This handy little threader can help you when your hands are just too cold to easily thread your tippets through the eyes of those tiny flies. It is magnetic, and the hook automatically gets pulled into place for easy threading. Simply point the end of your tippet into the groove that directs it right through the eye. Heck, why wait until your hands are cold? After you try this, you won't want to thread flies any other way. This gizmo is a bargain!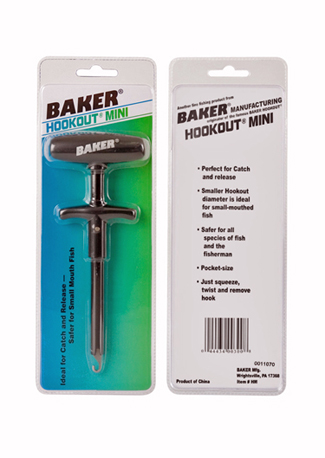 Baker Mini HooKouT Fish Hook Remover
Because of its compact size, the Mini HooKouT is ideal for use by fly fisherman. With its T-shaped handle, it can slip into any pocket for easy access. Made of non-corrosive materials it will provide many years of use * Great tool for catch-and-release fishermen * Safer for all species of fish and the fisherman * Just squeeze, twist and remove hook * Length 6" long, 3" throat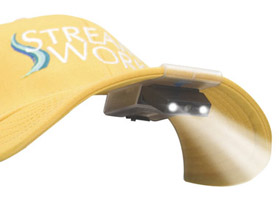 HATLIGHT Plus (Articulating flashlight) - from Streamworks
Streamworks, Lip-On, Articulating, HATLIGHT Plus (flashlight) FEATURES * 3-Way Switch * Single RED LED * Single Flashing RED LED * Two Ultra-Bright WHITE LED's * 36 Hour Continuous Usage (batteries included)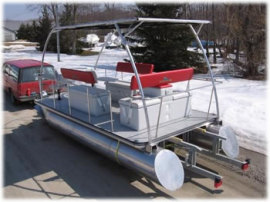 Pontoon Boat
If you have the money to spend and like to lake fish, you may want to take a look at pontoon boats. This is definitely a luxury item, but if you have the budget, why not indulge? There are several different pontoon boats designed for fishing. They will feature a livewell to keep your catch in, a sink, a captain's console with an optional GPS unit, marine radio, a privacy unit, rod holders and plenty of comfortable seating. Most companies will give you the option between deluxe bass seats with armrests or sofas with laybacks. The boats come with a fold up shade cloth you can open up on sunny days. Talk about fishing in the lap of luxury!
Optional accessories may include a kitchenette package, a cooler table, a fiberglass bar, carpeting, a wheelchair wide side gate upgrade, depth finder, trolling motor plug, hydraulic steering upgrades, storage compartments and an aluminum-skinned underdeck. Other options include a retractable docking line, a power amp, an iPOD controller, a swim raft, a filler seat, a sleeper system, interior lighting, a chemical toilet and more.
As you can see, a pontoon boat can end up being a simple tool to help your fishing experience, or it can become a luxury item that you can actually camp out on the water or entertain your entire family. If fishing is an activity you spend a lot of time doing with your family, a large pontoon boat may actually be a good investment.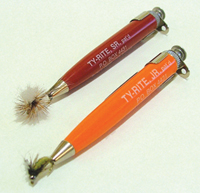 TY-RITE Fly Holder
This sweet little fly holder will prevent crushed hackles, dropped flies and pricked fingers! This holder features a spring-loaded tip that holds your fly securely by the hook bend, making threading much easier. The fly can be spun for the perfect knot. Two sizes are available… the Senior model works for flies down to size 18, while the Junior model works for tiny midges and flies to size 24.
"Hmm, Do I really need this fishing gadget or do I just want it?"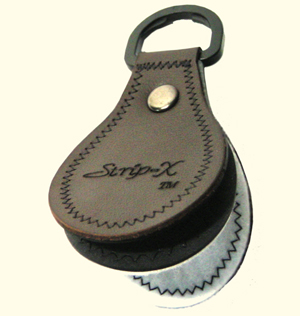 Leader Straightener and Line Cleaner
Attach this handy little gadget to your vest before you even leave the house! Two gadgets in one, to straighten your leader, just pull it through the rubber faced sides until it is nice and straight. Add a few drops of line care solution and pull the line through the felted sides to clean and remove the memory in the line. A bottle of line care solution is included.
"Hmm, Do I really need this fishing gadget or do I just want it?"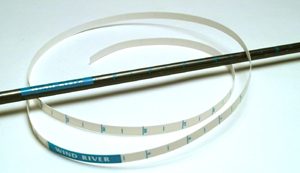 Rod Rulers
A rod ruler is a transparent ruler that you can stick onto your fishing rod. It is durable, waterproof and flexible. Virtually unnoticeable on your fly rod until you need it, when you catch the big one, you can easily measure it by holding your rod up next to the fish. Take your photo, and you'll have proof of your catch before you release it back into the water. The ruler can be trimmed as needed to fit perfectly.
"Hmm, Do I really need this fishing gadget or do I just want it?"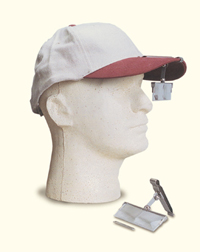 Hat Eyes
Do you have trouble seeing details up close? You don't want to fumble with a sharp hook when you can't see what you're doing clearly. These Hat Eyes clip onto your hat brim and make easy work of threading a tippet or tying flies. Magnification is 2.25X.
"Hmm, Do I really need this fishing gadget or do I just want it?"
If you are getting a bit older, these glasses or something similar can really be a blessing!!

UV Repair Kit
A UV repair kit is a great thing to have on hand in case you get a leak in your waders. Just apply it directly to the hole and expose to sunlight for a minute. Suddenly, your waders are as good as new. If the weather isn't sunny, simply use the handy UV lamp that comes with it. The kit also includes a tube of UV activated knot sense. This will help smooth and strengthen your knots. It can also be used as a general adhesive or as head cement.
"Hmm, Do I really need this fishing gadget or do I just want it?"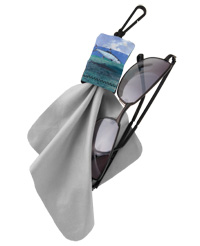 Spudz Eyewear Cloth
This soft microfiber cloth is lint free and is helpful for cleaning off water drops and smudges from your camera lens or your eyewear. This cleaning cloth is sewn into a handy little pouch you can dangle from your fishing lanyard. Just pull the cloth out of the bottom of the pouch, use it, and stuff it back in again.
"Hmm, Do I really need this fishing gadget or do I just want it?"
---
Contact us for more information or visit our ONLINE FLY SHOP
---

WANT A DISCOUNT COUPON? Just click the " Online Fly Shop" bar and sign up for a free account. You will receive a coupon worth 10% off your next purchase. We take discounting seriously.
Return from Fishing Gadgets to Fly Fishing Discounters Home Page